Heatseeker is a videoperformance inspired to Atrocity Exhibition from J.G.Ballard and Heart of Darkness from Conrad.

Along with a running video, a live voice over tell the story of a Captain and a crew sailing to a ruined zone, after a disaster.

Heatseeker è una videoperformance ispirata a "La mostra delle atrocità" di J.G.Ballard e "Cuore di tenebra" di Conrad.

Accompagnata da una videoproiezione, una voce racconta la storia di un Capitano e di una ciurma, diretti verso una zona distrutta da un disastro.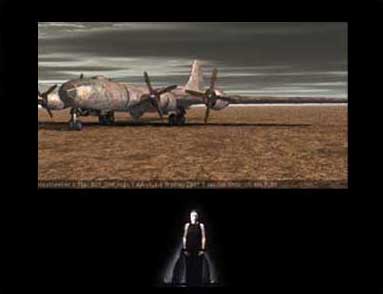 Un disastro di origine ignota ha devastato una vasta area, adesso nota semplicemente come "La Zona". Appena fuori dalla Zona, nel piccolo porto di San Cristobal alcuni uomini attendono. l'approdo è in rovina da quando dopo il disastro è stata posta la quarantena al luogo.
Tra gli uomini, uno , chiamato il Capitano, osserva l'orizzonte.
Quando una nave fantasma appare al largo, immobile, gli uomini decideranno di partire diretti alla Zona. Il viaggio comincia.
Twenty years before, a disaster of unknown origin destroyed a vast area, now simply called "The Zone".
Just outside the wasteland, there's a small port, S.Cristobal.Commerce has been ruined and the people starve, waiting for something to happen. Between these people, a man, called the Captain, is waitin'.
When a ghost ship appears everybody, for differents reasons, decide to participate to a mission in the Zone. The journey begin...


The disaster who originated The Zone is described in the prequel Arkive 0, while the story is narrated in Arkive01.
download comunicato stampa tecnoteatro 8.0 (italian)